Learn To Row
We welcome new beginners to the sport of rowing
Poplar RC Learn To Row Course
The learn-to-row course is aimed at beginners with no previous experience of rowing, who are interested in taking up the sport. It aims to take participants to a level where they are confident afloat and can then continue to participate in club activities on a regular basis.
If you have rowed before, no matter how long ago, and want to get back into it you don't need this course. Just turn up at the club on a Tuesday or Thursday evening after 1730 or Saturday or Sunday morning after 0930 and ask to speak to a trustee.
PRE-REQUISITES
The essential pre-requisites for rowing are:
• being able to swim for at least 250m with light clothing
• you must be aged 18 or over
• you should not have any medical condition or disability which would impair your capability to row or affect the safety of others when afloat
• you should be able to attend all the sessions in the programme
COURSE STRUCTURE
The programme times and dates are based on tidal and daylight conditions and the need to fit around other club activities. On-land sessions will be split into two on Tuesday and Thursday evenings and Saturday and Sunday mornings and will be 45mins long.
Each water session will last between 1 and 2 hours depending on weather, tides and availability of equipment. Water sessions may be cancelled without notice because of adverse conditions in which case we will try and substitute a land-based session. Session times may be changed at short notice to fit around other club activities.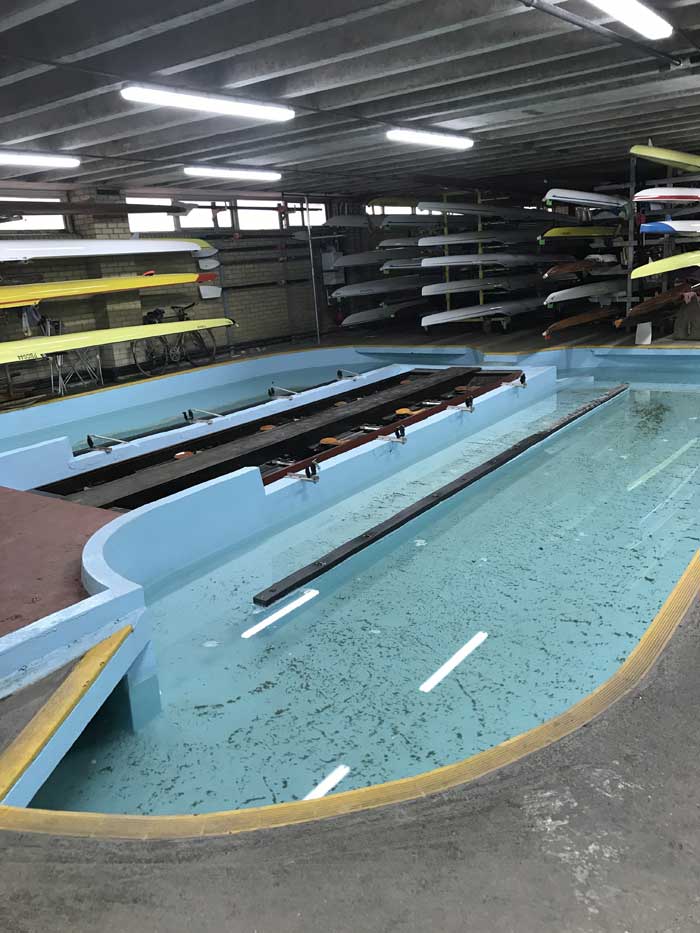 This is our rowing tank used for learners and to improve the technique of novices
I want to learn to row. Can you teach me?
Yes, this is what this course is for. Be warned though, rowing can be seriously addictive – the competitive crews at the club will train 4 to 6 times a week for about ten months of the year. It's not an exaggeration to say that rowing can change your life!
Will I have to commit to train that hard?
No you train as much as you want to depending on whether you want to compete or row recreationally. In common with all sports the time you put into it is the best indication of what you will get out it. Poplar RC does cater fully for recreational as well as competitive rowers.
Do I have to wait for the course to start to start learning?
For the formal course, yes. However, in the run-up to the course you can visit the club and have an introductory look around. You can also improve your fitness levels ready to learn to row by running, cycling or fitness training in a gym.
How many other people will be learning with me?
The course will be for a maximum of 16 people, with places allocated on a first-come first-served basis. We have a maximum capacity of eight people on the rowing tank and the course will be split into two consecutive sessions for each indoor training session.
What happens if I miss a session?
We ask you to try very hard to attend every session. This course is fast-moving, people learn quickly, and experience shows that if you miss more than 2 sessions you will fall too far behind to catch up. If you miss 2 consecutive sessions without notice, we reserve the
right not to accept you back on the course. Please check the course programme offered to you and don't sign up unless you are genuinely prepared to attend every session.
If, because of unforeseen circumstances, you think you will have to miss more than 2 sessions 1 of 3 during the course, please let us know as soon as you can. It is essential to participate in certain sessions (e.g. health & safety induction) and if you miss these your progress will be seriously delayed.
Do I need to be really fit to start?
A basic level of fitness is required before you start, but more important is that you are keen to improve. The course will include fitness goals, as well as enabling you to master the basic techniques of rowing. If you have any concerns regarding your fitness you should
consult your GP before starting a new exercise regime. It is important that you tell us of any conditions that may affect your ability to participate in strenuous activity.
Who will be teaching me to row?
Club members who have volunteered their time: some are qualified coaches, some are qualified by experience.
Where is the course held?
The indoor sessions will be at:
Poplar, Blackwall and District Rowing Club (PBDRC),
The Boathouse,
Ferry Street,
London
E14 3DT.
Nearest DLR station: Island Gardens. Unlimited evening (after 5.30pm) and weekend parking at the clubhouse and cycle racks
immediately outside. Boris bike rack within 200 yards (Island Gardens). Masthouse Pier is a 10 min walk from the clubhouse and Greenwich Pier is directly opposite both with regular Thames Clipper service , and the clubhouse is very close to the Greenwich foot tunnel which gives pedestrian and cycle access from the south side of the river.
The river sessions will be on the Thames at Greenwich, with access from the PBDRC clubhouse. Some sessions afloat may be held at the London Regatta Centre at the Royal Albert Dock, E16 2QD. Nearest DLR station: Royal Albert. Free car and bike parking at the Regatta Centre.
How do you teach me?
We start in the rowing tank, an indoor 'pond' equipped with sliding seats, riggers and oars with slots cut out of the spoons to allow it to travel through the water – just like a boat but it doesn't move. Once you're confident on the tank and have learnt the commands
and techniques, we do a safety induction and then take you afloat, in a 'tub' (a wide stable boat) and/or eights with experienced club members assisting.
What should I wear?
For indoor training we suggest trainers and close-fitting gym kit. For rowing you will need old trainers, wet-shoes, Crocs or strapped sandals (not flip-flops or Wellingtons) to wear in the river and remove when you are in the boat, and, again, close-fitting gym clothes. A
close fitting wind/ waterproof top layer is also needed. Baggy t-shirts and shorts are not suitable as they can get in the way of the rowing blade handles and the sliding seats.  When you go afloat you are almost certainly going to get wet, so always bring a change of clothes.
Are there changing facilities?
We have changing rooms with showers for both men and women.
What will it cost?
The fee is £150.00 for the course, payable in advance. Sessions at the Royal Albert Dock will cost an extra £5.00 per person per session for hire of boats, payable on the day.
How do I get on the course?
You have already registered your initial interest in the course. You need to confirm your interest when you receive the course programme and we will e-mail you an application form which needs to be completed and returned to us, preferrably by email. The course
fee can be paid by Bank Transfer (details on the form), or by cash (if delivered to the clubhouse). We will confirm receipt of your application and the course fee, and reservation of your place, by e-mail.
Places will be allocated on a first-come first-served basis. The course fee also gives you temporary membership of the club for the duration of 2 of 3 the course. We will refund the fee if you have paid for the course when applying but your application is received after all places have been filled.
When it's finished do I have to join the club?
No, but if you want to continue rowing you will be welcome to join the club as a full member. The cost of membership is noted on the Membership Form you will have to complete before using the club after completing the course, see 'membership' on the club
website. The membership subscription includes a £5/month contribution to the Crown Club which builds funds to replace club equipment and offers cash prizes in a draw each month.
All members have are encouraged to join British Rowing to take advantage of the insurance provided to members, anyone competing for the club in open events against  other clubs also need to be Gold members of British Rowing: see www.britishrowing.org
Do I get to race?
There will be an opportunity to race in a Club Race event organised by PBDRC. This may be possible during the summer, as we run several club races during the season in which those who want tomay get the chance to compete. We hope that you will join the club and continue rowing training.
What happens after the course if I join the club?
Depends on what level you want to row and how much time you want to commit. You can join the men's or women's novice squads and train to race. You can join an existing crew or form a crew with like-minded course graduates and we will try and provide coaching. Or you can row recreationally – occasional sessions when you feel like it.
I have another question
if you have any questions about the course not answered by the above then please use the Contact Us page and one of our Trustees will be able to answer whatever questions you have.