Rowing News
Read what's going on at Poplar Rowing Club
Bernard Spencer RIP
Jan 30, 2018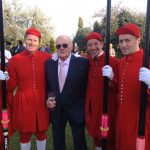 The Spencer family would like to invite past members of PBDRC and friends to the funeral of Bernard Spencer. The service will be held on Tuesday February 20th at 12.15 at the City of London Cemetery, Aldersbrook Road, Manor Park, London E12 5DQ.
Bernard was a member of the club for over 65 years and will be sadly missed.
Everyone is welcome to attend the service and are invited back to the clubhouse after the ceremony.
The family would be grateful if Doggett's winners can wear their livery.
About PBDRC
Poplar Blackwall and District Rowing Club is a rowing club on the nothern bank or the River Thames opposite Greenwich on the Isle of Dogs, London.
We are open to all levels of rowers for fun, practice, training and competition.
PBDRC
56 Ferry Street, Isle of Dogs, E14 3DT
Our Address
Poplar, Blackwall & District Rowing Club
The Boat House
Ferry Street
London
E14 3DT