Rowing News
Read what's going on at Poplar Rowing Club
Docklands Head 2018
Oct 14, 2018
This year's Docklands Head will be held on Sunday 11 November over a straight  2.75km course at the London Regatta Centre.
Entries are open via the British Rowing Online System, and entries will close on Sunday 4 November. We hope to see you there!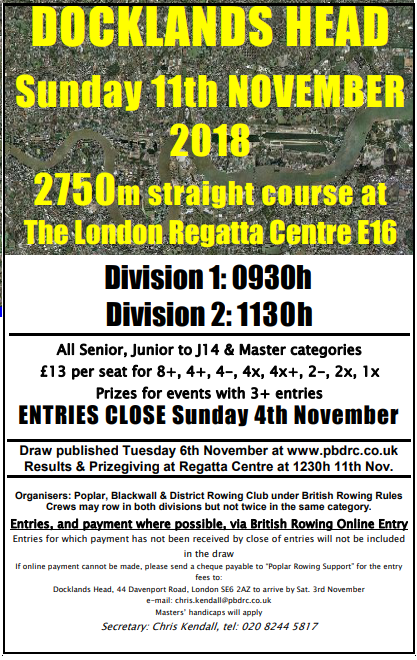 About PBDRC
Poplar Blackwall and District Rowing Club is a rowing club on the nothern bank or the River Thames opposite Greenwich on the Isle of Dogs, London.
We are open to all levels of rowers for fun, practice, training and competition.
PBDRC
56 Ferry Street, Isle of Dogs, E14 3DT
Our Address
Poplar, Blackwall & District Rowing Club
The Boat House
Ferry Street
London
E14 3DT